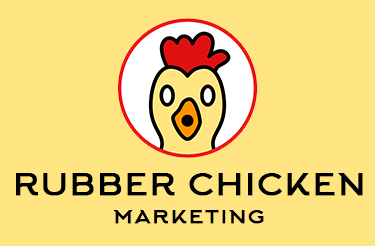 Established in the summer of 2020, Rubber Chicken Marketing is here to help small businesses amplify their voice & accelerate growth through branding, digital advertising, and ecommerce.
RCM was founded by Michael Baird, a marketing veteran with over 30 years of roll-up the sleeves, practical experience. Michael's career has taken him from a radio microphone to the baseball diamond, big top to mortgages, life-size licensed decals to non-profit (and then back again). With a career like that, there is not one segment within the marketing discipline that he has not worked in.
Rubber Chicken Marketing has in-depth experience directing a full gamut of marketing strategies for B2B and B2C segments across all channels and geographies. We've demonstrated success in formulating innovative, tech-driven initiatives and brand architecture to drive aggressive sales and ROI for our clients.
- AREAS OF EMPHASIS -
Multi-Channel Marketing
Market Research & Analysis
Brand Development
Collateral Development
Management & Leadership
Direct & Ecommerce Marketing
Pricing & Product Launches
Digital/Website Marketing
Budget Planning
Campaign Management
Public Relations
Vendor/Agency Relations
Rubber Chicken Marketing? Where did that come from? That question is usually the first one people ask when they hear our name.
One of our founders first jobs had him serve as the on-field emcee for a minor league baseball team. He became known as the "rubber chicken guy" for pulling the toys from a box during one of the games they played between innings. Since then, he always knew that if he started his own company, it would be called Rubber Chicken.
We believe that the rubber chicken is one of the ultimate expressions of humor and fun. You can be incredibly serious about what you do, but it's the fun you have while doing it that makes it worthwhile!
Interested in learning more about how Rubber Chicken Marketing could help your business? Give us a shout!